21 Things SSDP is Doing Right Now to End the War on Drugs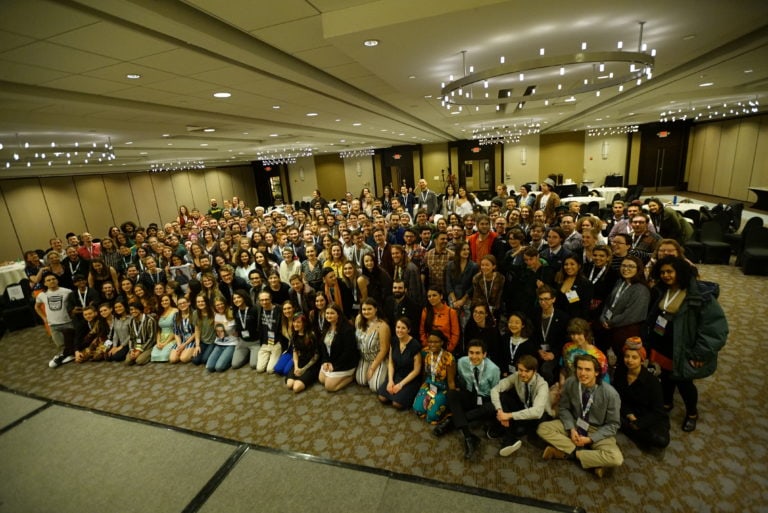 Students for Sensible Drug Policy just celebrated our 21st anniversary! If SSDP were a person, they'd be old enough to drink legally in the United States (we still think the drinking age is too high, by the way). We've been organizing young people to actively work towards ending the global War on Drugs for more than two decades, and right now we're doing more than ever to change harmful drug policies and support young leaders. Here's what we've been doing lately to end the War on Drugs:
1. Building community among SSDPers across the globe. SSDP members stay connected to each other thanks to our strong social media presence. No matter where SSDPers are located, there's always a fellow member, alum, or staff member willing to give advice on best practices for organizing and emerging drug policy issues.
2. Mobilizing hundreds of people to take action via phone, text, and email. We believe it should be as easy as possible to make your voice heard. Text SSDP to 52886 right now to support our current US legislative priorities, including the MORE Act for equitable cannabis legalization and the CARE Act to address the overdose crisis.
3. Helping people expunge prior drug convictions. Moritz College of Law SSDPers Volunteered with the Legal Aid Society to seal the records of people who have been convicted for certain (mostly drug) offenses, and several chapters were involved in organizing events for National Expungement Week.
4. Representing the youth voice at the United Nations in New York, USA and Vienna, Austria. SSDP staff just attended the Commission on Narcotic Drugs' 5th intersessional meeting, where progress on cannabis reform is slow but showing signs of hope. Check out Orsi Fehér '16's recap here!
5. Advocating for safe consumption sites (SCS). Members from DePaul and University of Chicago collaborated with the Drug Users Health Collective of Chicago to send postcards to Mayor Lightfoot encouraging her to support SCS in the city. In Denver, Kat Humphries '10 and the Harm Reduction Action Center fight to open SCS there.
6. Providing non-profit leadership experience to young people. SSDP's Board of Directors has 12 student seats elected by our members to represent their voices at the highest level of the organization. Many SSDPers go on to lead or found their own nonprofits in drug policy reform, harm reduction, and/or adjacent movements.
7. Organizing conferences and trainings around the world. In addition to our annual global conference where hundreds of members undergo an intensive weekend of training and learning, we also organize video trainings for our members, such as the recent African Leaders Training Session.
8. Speaking on panels at drug policy conferences, making sure young voices get heard. Subscribe to our email list to receive our monthly report card and check out where SSDPers are speaking at events near you!
9. Talking about sensible drug policy on national TV. Members of SSDP Ireland recently discussed the urgent need for access to drug checking on RTÉ PrimeTime, which aired nationally in Ireland!
10. Lobbying US congress with our allies. SSDP is part of the Cannabis Justice Coalition and regularly visits Congressional offices to advocate for justice-focused cannabis reforms.
11. Testifying at local government meetings. 15 of our chapters have met with decision-makers since the start of our program year. Nova Southeastern University SSDPers met with a county commissioner to discuss expanding needle exchange programs in Broward County. Ferris State University SSDPers met with Big Rapids City Commission to urge them to allow cannabis dispensaries within Big Rapids city limits, just to name a few!
12. Training a generation of young fundraisers. Our development team conducts regular fundraising trainings at our annual conference and Strategy Summit. All members can get basic fundraising training from our Movement Building Fellows, and the development staff is available to provide intensive fundraising coaching for members interested in undertaking bigger fundraising projects.
13. Building a culture of drug policy philanthropy. The Sensible Society and Alumni Association has more than 400 members! SSDP has no endowment and receives minimail grant support. We rely on gifts from the drug policy reform movement and cannabis industry to make our work possible, and take a grassroots, social-justice-oriented approach to fundraising. Join the Sensible Society today!
14. Educating our peers with Just Say Know. Through SSDP's Just Say Know program, our SSDP certified peer educators are able to provide needed harm reduction knowledge and support to their peers. The program consists of a robust and comprehensive training program where our members can learn all about the War on Drugs, drug use, stigma, harm reduction, and gain skills in active listening, program presentation and delivery, and supporting peers. Once trained, SSDP certified peer educators can use that knowledge to advocate for policy change on campus and in their community and educate peers on drugs and drug use via harm reduction.
15. Preparing SSDPers to have careers in psychedelic therapy and research through the psychedelic pipeline. SSDP was recently awarded a grant by the Threshold Foundation that will allow us to start developing the Just Say Know psychedelic pipeline, which will include opportunities for mentorship, training, career development, and more!
16. Getting SSDPers elected to student government positions… This program year, 9 SSDPers have been elected to student government positions, including student body representatives, serving on opioid task forces, and even as Chief of Staff!
17. …and local government positions! Scott Cecil '10 was recently elected as City Council Member for Mt Rainier, MD Ward 2.
18. Advocating for more sensible sentencing of drug cases in Ghana. SSDP Ghana is engaging with a District Magistrate Court to discuss drug sanctions and prosecution with Judges.
19. Seeding chapters in key US states ahead of 2020 ballot and legislative initiatives. SSDPers have been instrumental in providing grassroots support to cannabis reform initiatives since the passage of Amendment 64 in Colorado in 2012. In 2020, we'll make tens of thousands of voter contacts and lobby elected officials in as many as 11 states considering cannabis reform initiatives.
20. Registering voters in the US. SSDP is partnering with HeadCount's Cannabis Voter Project to help register and turn out voters this election cycle. Check them out at cannabisvoter.info!
21. Getting elected officials, especially presidential candidates, on the record about drug policy. This weekend, SSDPers are headed to #OverdoseForum2019 during Iowa Harm Reduction Summit, during which 2020 democratic presidential candidates will discuss drug policy. We hope to get candidates on the record there and elsewhere on the campaign trail!
There's something you can do, too! SSDP relies on donations from people like you to cover the cost of accomplishing this important work each day. Help us celebrate our birthday with a donation of $21, $210, or $2,100 today!