Drug Policy Reform Won The Election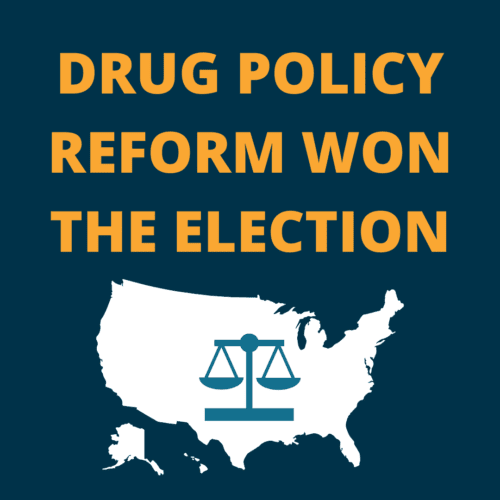 This entry has been published on November 4, 2020 and may be out of date.
Last night, drug policy reform was the clear winner in the United States 2020 election. Students for Sensible Drug Policy was honored to work on seven winning statewide initiatives this year and we congratulate the successful campaigns on this stunning victory for drug policy reform.
In an unprecedented move, Oregon voters turned out to overwhelmingly support the decriminalization of all drugs. Oregon is now the first state in U.S. history to decriminalize personal possession of all drugs, redirecting funds that were used to prosecute and incarcerate people to instead expand access to treatment, housing, and harm reduction services for people with substance use disorders. This major victory for our movement is evidence that after decades of fighting, we have shifted to a new paradigm where drug use is treated as a public health issue and not a criminal one.
Oregon also legalized psilocybin therapy, giving individuals in the state access to a 'breakthrough therapy' for depression, anxiety, and other mental health conditions. This victory signals a shift in the public perception of psychedelics as medicine and allows mental health patients to have safe access to new and groundbreaking mental health treatments.
Marijuana prohibition in the United States continues to crumble as Arizona, Montana, New Jersey, and South Dakota voters legalized marijuana for adult-use and both Mississippi and South Dakota legalized marijuana for medical use. With these wins for drug policy reform, we celebrate that the respect of individual liberties of cannabis users continues to grow and that patients have safe access to the medicine they need. 
By 2022, we could end U.S. federal marijuana prohibition and decriminalize drug possession in a handful of U.S. states, and none of this will be possible without the help of supporters like you to mobilize our strong and dynamic grassroots movement for sensible drug policy reform. During this new era of drug policy reform, we cannot let go of the momentum. These victories prove our approach works and your support matters. Make a gift today and help us continue to fight the War on Drugs.
What would you give to end the War on Drugs once and for all?