SSDP Sign-On Letter: Oppose Aerial Crop Eradication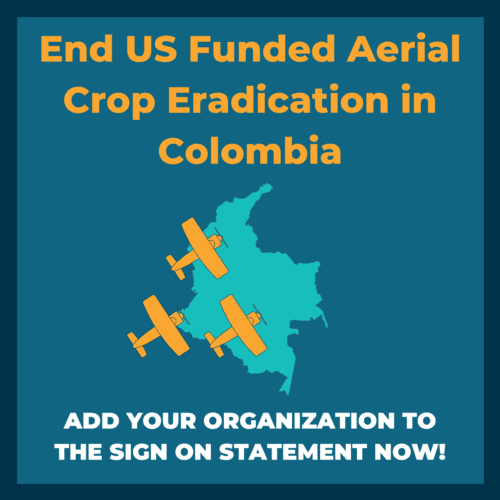 This entry has been published on June 17, 2021 and may be out of date.
Students for Sensible Drug Policy is circulating a sign-on letter for organizations and SSDP chapters to urge Congress to eliminate funding for aerial crop eradication in Colombia on the bases of environmental justice, human rights, public health, and sensible drug policy.
In 2014, the World Health Organization found that Glyphosate, which is used in aerial fumigation, was and is responsible for damage to the environment, health, and local food supplies. Since Afghanistan halted the use of Glyphosate for aerial spraying in 2007, Colombia has been the only country in the world to continue the practice. The use of aerial fumigation is the latest in a continuous string of government abuses that jeopardize the health and safety of Colombian citizens. Additionally, a study by Pascual Restrepo of MIT and Sandra Rozo of UCLA found that for every additional hectare sprayed with glyphosate, illicit crops are reduced by only 0.03 hectares. It is clear that this policy is inefficient and ineffective.
Therefore, SSDP is launching a campaign aimed at Congress requesting that a provision be added to the federal budget to remove all funding for aerial crop eradication. The practice of spraying poisonous chemicals into the environment does not take into consideration the environmental damage and the economic harm to indigenous farmers, as well as the ineffectiveness of the policy to reduce the growing of coca.
Sign on here by Friday, June 25th. You can view the full letter here.