SSDP Supporting Student Speech Rights at the Supreme Court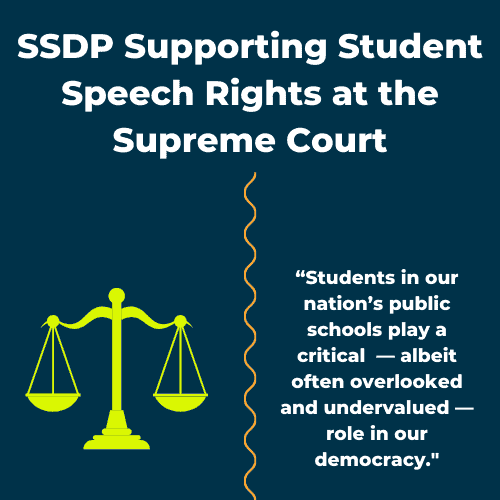 This entry has been published on April 8, 2021 and may be out of date.
Written with support from Kat Murti '09 and Jason Ortiz '08
In 2017, a Pennsylvania public school student identified as 'B.L.' expressed her frustration about not making the varsity cheerleading squad on Snapchat. Despite the app's reputation and purpose, the image she sent on a Saturday and out of class (including many profanities) was saved and ended up in the hands of school officials. B.L. was swiftly suspending from the junior varsity squad for the rest of the year. In 2021, this case has made its way to the Supreme Court, and is looking to be one of the most important student speech cases in decades.
The connection to drug policy reform may not be obvious, but if this case goes in the school's favor, the precedent would result in a major blow and probable chilling effect for student speech moving forward. If a public school is able to suspend a student for speech that is off-campus, out of school hours, and outside of a school event, then there would be next to no protection for a student who criticizes school or local drug policies, even outside of school hours.
Last month, an amicus brief was filed on behalf of Students for Sensible Drug Policy and other student and youth organizations to support B.L. in her family's case at the Supreme Court. An excerpt from the brief has been included below.


"Students in our nation's public schools play a critical  — albeit often overlooked and undervalued — role in our democracy. Their civic engagement should not be stifled simply because it challenges school authority.  Throughout history, student organizations such as the amici have played instrumental roles in momentous political and social movements. For decades, youth across the country have used their voices to express their views, impact policies, and effect change. 



During the Civil Rights movement, for example, student organizations staged sit-ins and marched in protest of segregation laws, challenged racism during Freedom Rides, and advocated for voter rights legislation. Student organizations have consistently embraced what former student activist and later Congressman John Lewis called "good trouble" — fearless agitation designed to provoke, challenge, and move the nation forward. Students' reliance on social media is not only a critical component of social activism and civic engagement, but important to their cultural development and identity formation."


Support speech and the youth drug policy reform movement with a gift to SSDP.