Take Action to Ban Facial Recognition on Campus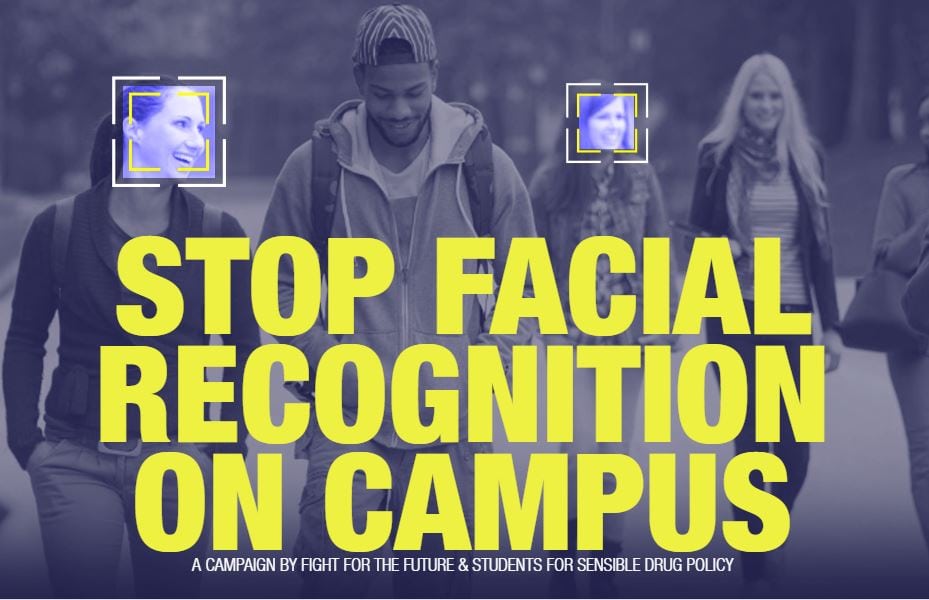 This entry has been published on January 28, 2020 and may be out of date.
Recently, we announced the launch of Students for Sensible Drug Policy and Fight for the Future's #BanFacialRecognition campaign. Facial recognition is invasive, biased, and a threat to everyone's basic rights and safety — which you can read about in this article about our campaign on Vice. SSDP recognizes that mass criminalization and mass incarceration are consequences of prohibitionist policies. Thus, the organization is aligned with preventing a dangerous technological advancement of the police state and potential expansion of the prison industrial complex.
Thousands of concerned students, faculty, and community members have signed our petition to ban facial recognition. Will you stand up for students' privacy and right to an education by joining them and encouraging your chapter to sign on too? Once you've signed, encourage friends and other student or community groups to sign the petition then share our campaign on Twitter, Facebook, and Instagram Stories.  
We know how powerful this campaign can be! Our friends at DanceSafe took a stand during Fight for the Future's campaign to ban facial recognition at music festivals and live music events, and they declared victory after only a few weeks when promoters and venues committed to non-cooperation with any attempt to implement the technology. We can do this, but we must act now.
A new scorecard provides information about facial recognition use for nearly 100 top university campuses in the United States—whether they currently use facial recognition, don't use (and don't plan to use), or declined to answer. So far, 45 schools have given statements clarifying that they are not using and have no plans to use the technology. Where does your school stand?
The simplest action your chapter can take is signing the student organization open letter. We encourage all chapters to also share this open letter with allied campus organizations. If your chapter is interested in participating in student government resolution element of the campaign, please complete this form and check out our campaign toolkit. 
If you have any questions, please contact me at erica.darragh@board.ssdp.org. We're committed to deconstructing mass incarceration and mass criminalization, so we must prevent this digital evolution of the overreach that fuels so much injustice in the drug war. Let's stand together to demand commitments from university administrations and pass student government resolutions to #BanFacialRecognition.