The Importance of Staying Involved in our Community: A message from a new Alumni Member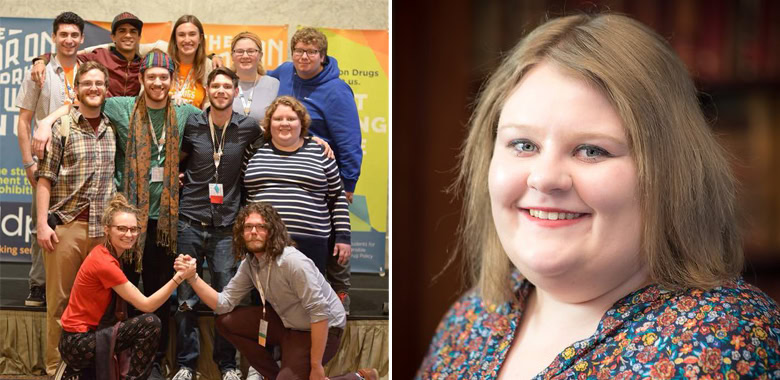 This post is by Rachel Mass '15 and is part of a series written by SSDP Alumni for #SSDPAlumni Week. Join today!
In Spring 2015, the second semester of my freshman year at Kent State University, I decided to attend a documentary screening hosted by the Kent State University chapter of Students for Sensible Drug Policy. The documentary was The House I Live In, an examination of the racial politics of the crack crisis, mass incarceration, and the disproportionate harm the War on Drugs has had on poor communities of color. While I had never been in favor of the criminalization of people who use drugs, only after the viewing of The House I Live In did I begin to grasp the enormity of the issue and all the suffering the drug war has had caused. More than that, I realized there was nothing accidental about the destruction of lives and communities; the War on Drugs was designed to target and harm marginalized people. I did not know it then, but the new perspective on drug policy the documentary provided to me would mark the beginning of my involvement with SSDP.
My involvement with SSDP on a local, national, and international level has allowed me to be a part of a movement much bigger than myself. In my time at Kent State, the chapter successfully advocated for a medical amnesty policy on campus, petitioned for a statewide medical amnesty policy to help save lives off-campus,and partnered with Project DAWN to host naloxone training workshops on campus and aid in the distribution of the life-saving medication to the public.
I graduated from Kent State University in December 2018, but my involvement with the organization is far from over. In my hometown of Youngstown, Ohio, overdose deaths continue to soar as policymakers continue to crack down on harm reduction efforts and instead target people who use drugs, people who sell drugs for survival, and patients who use opioids to treat chronic pain even more harshly. SSDP recognizes that this tactic is as ineffective and harmful as it is disingenuous, and the organization has provided me with guidance and invaluable resources to fight against the harmful impact this approach has had and continues to have on my own community.
In addition to my ongoing efforts to carry out SSDP's mission in my community, I am excited to see how SSDP's mission and practices will evolve with each new generation of students. As SSDP alumni, it is important that we do all we can to support these efforts and to be as helpful to current and future students in the organization as our predecessors were to us. The donations the organization receives from members of the SSDP Alumni Association are a crucial part of this support. The Sensible Society helps fund day-to-day operations and provides students with tools they need for recruitment and grassroots organizing in their communities and unbiased drug education. In short, financial support from SSDP alumni is absolutely necessary for current and future students in the organization to continue vital work toward ending the War on Drugs and working toward a safer, more compassionate world for people who use drugs.
To become a member of the SSDP Alumni Association, join the Sensible Society and then sign up here.