WAKE FOREST SCHOOL OF MEDICINE STUDENTS FOR SENSIBLE DRUG POLICY SUCCESSFULLY BANS THE BOX ON THEIR SCHOOL APPLICATION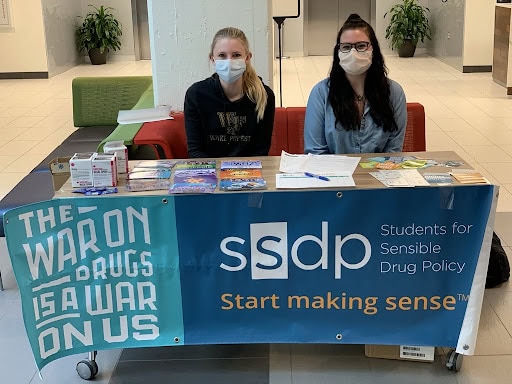 This entry has been published on November 10, 2021 and may be out of date.
Interview with Lindsey Galbo, Wake Forest SOM SSDP Chapter President
Lindsey Galbo '19 is the Founder and President of the Wake Forest School of Medicine Students for Sensible Drug Policy chapter. Lindsey and the rest of the Wake Forest SOM chapter have focused primarily on the intersection of harm reduction, scientific research, education, and policy change. They've worked with local high schools to provide sensible drug education to young people in their community, and have recently successfully Ban the Box on their school admission application. 
What is Ban the Box?
Over 65% of colleges and universities screen applicants for criminal history, creating unfair obstacles to gaining higher education Regardless of intent, questions about criminal history on applications discourage otherwise qualified individuals from applying to school. Due to this policy and others like it, a disproportionate number of people of color are excluded from opportunities in higher education as they make up ⅔ of the prison population. Additionally, no evidence exists proving that these screenings improve campus safety. It has been proven however that access to higher education improves outcomes for individuals impacted by the justice system.
How did your chapter determine that this was the campaign for them? 
I attended a symposium and had the opportunity to listen to Dr. Noel Vest speak about Ban the Box initiatives he was involved in. Dr. Vest is a formerly incarcerated individual who now is a postdoctoral fellow at Stanford School of Medicine. He heard about Ban the Box and helped to author the Fair Chance Act to Education Act in Washington state and is presently working on a Ban the Box initiative in California. I was inspired and thought this could be a meaningful policy change our chapter could make at the campus level.
How did you get this campaign started?
When I became interested in this initiative, I reached out directly to Dr. Vest and we had a Zoom meeting to discuss how to organize a campus-level campaign and he sent me an entire zip folder of resources. Next, I reached out to the Dean of the Graduate School. He wasn't opposed to the idea and suggested I join the newly formed Committee on Race and Equity (CORE) and work with them. 
Tell us about the work you did with CORE.
After attending a meeting or two, I joined an issue group focused on Admissions/Recruitment and made Banning the Box a primary goal of our issue group and our chapter of SSDP. Together with the Admissions/Recruitment CORE issue group, we presented the idea to the Dean and the Director of the Graduate School. This had to then be discussed amongst yet another Admissions sub-group through the School of Medicine, who were very open to the idea except for graduate degree programs that required licensure/certification which cannot be obtained if an individual has a record of certain criminal convictions (ie, Medical Genetics). This was then passed on to the institution's legal team, and they ultimately agreed to completely remove the question regarding prior criminal history from all graduate applications, leaving an optional disclosure box for those who will be applying to program(s) that do require certification/licensure at the end of the program. We also hoped to remove the question regarding academic infractions (ie, honor code violations); however, they felt it was necessary to keep that question to support the academic integrity of the institution.
Congratulations on your win, it was well earned! Now that you all have finished this campaign, what comes next for Wake Forest SSDP?
Our chapter has an ongoing effort to reform the campus' "Substance Abuse Policy" and would then like to move on to local policy reform in Winston Salem. We are also planning an event in April in which policy experts with varying opinions on the prohibition and legalization of drugs will participate in a moderated debate to discuss the future of drug policy in the US. We are really excited about this in-person event which will also be live-streamed in order to reach as many viewers as possible. Stay tuned for more details! 
What advice would you give to SSDPers considering Ban the Box campaigns at their schools? 
I think the easiest way to start is to just start a conversation with your institution's administrators. Make sure you've done a little research and have some resources so you can answer their questions and show them the science. Also, try to determine if any/how many other colleges/universities in your state have also banned the box, or if the state has done so for state employment applications. For example, North Carolina's Governor had banned the box on state employment applications shortly before I contacted the Dean, which I think definitely helped us convince the school.
Any closing thoughts? 
Feel free to reach out if you'd like any resources – Dr. Vest shared a lot with me that I'd be happy to pass on.